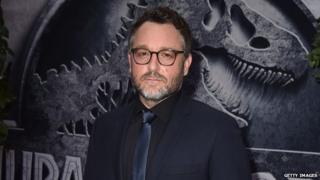 Getty Images
The director of Jurassic World, has criticised the people who made the trailer for the film, for revealing too much of the plot.
In an interview director Colin Trevorrow said: "they have shown far more of this movie than I would ever have wanted" in the trailer.
Most trailers are made by the movie studio's marketing team, and not the directors who make the film.
Their job is to decide how much of the film to show to make the audience want to watch it, without revealing too much of the film.
But what do you think?
(Thank you for sending us your comments. This chat page is now closed)
Your comments
I think that movie trailers are bad because they give out too much information, so you think that it's boring when you watch the film at the cinema.
Martha, Ipswich, England
I think they do because most of the time when I watch a movie it's more of the boring parts shown because we see all the good parts in the trailer
Nicole, Nottingham, England
I don't mind movie trailers because they give you an idea of the film to choose, and if you want to see it or not.
Ben, Co.Fermanagh, Northern Ireland
I do not think that trailers show too much, because I often see trailers that show barely anything, and the others leave you on cliff hangers so you want to watch it.
Amelie, East-Sussex, England
I think that it varies really, but in most cases they give away the best and funniest bits so in the movie it's not as funny.
Erin, Warwick, England
I think that movie trailers give away the best part of the movie, and when we see the movie we already saw almost all of it, because of the trailer gave it away.
Safia, Barking, England