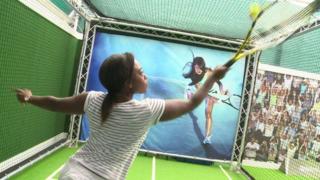 How to hit the perfect tennis serve
A serve is a tennis player's biggest weapon, reaching speeds of 120, 130 or even 140 miles per hour.
At this year's Wimbledon, Australian player Sam Groth, has hit the fastest, with a 147mph serve whipping past Roger Federer.
A good serve can help you win your games more easily and get you out of trouble if you hit an ace.
But what's the secret behind the skill? We sent Ayshah to Wimbledon to find out and give it a go.