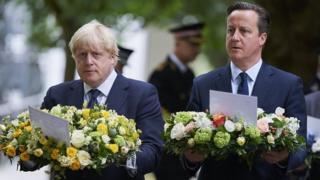 Look back at 7/7 bombings
It's the 10th anniversary of the 7/7 London bombings in 2005.
In Hyde Park dozens including the Prime Minister David Cameron laid wreaths and flowers at the memorial to the 52 victims who died.
Hundreds were injured.
Today prayers were said at St. Paul's Cathedral and a minute's silence was held across London and many parts of the UK.
Martin's been taking a look back at what happened.