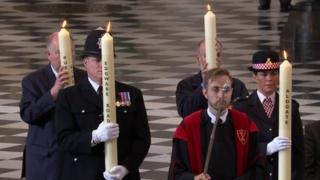 Candles lit at St Paul's for 7/7
A special remembrance service has been held at St Paul's Cathedral in London to mark the 10th anniversary of the London bombings.
The families of those who were killed were there as well as some of those who were injured on July 7th 2005 - the date of the attacks is now known as 7/7.
The prayers were led by priests who helped people in the hours and days after the attacks.
Candles for each of the four bomb sites were carried by people who helped the injured.
The Prime Minister David Cameron, Mayor of London Boris Johnson, former Prime Minister Tony Blair , and Metropolitan Police Commissioner Sir Bernard Hogan-Howe were all there.
The names of the 52 victims were read out
The Bishop of London, Richard Chartres, said "Soon after 7/7 the families and friends of the victims compiled a book of tributes. It is a taste of the ocean of pain surrounding the loss of each one of the victims.''
During a minute's silence, the congregation stood, as petals fell to the floor from the cathedral's dome.