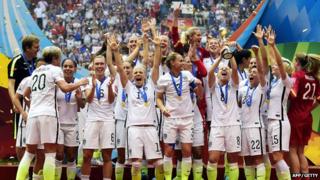 AFP/GETTY
The Women's World Cup has become the most watched football game ever in the USA.
On Sunday USA beat Japan 5-2, and it was watched by a record-breaking 25.4 million viewers, according to the Nielsen ratings data.
This smashed the previous record for the Men's World Cup in Brazil last year, where 18.2 million people tuned in to watch.
Only around 500,000 people stayed up to watch the final in the UK, which was broadcast at midnight, UK time.
Football, or "soccer" as it is called in America, is not as popular as "American football".
The USA are now the first nation to win three Women's World Cup tournaments.