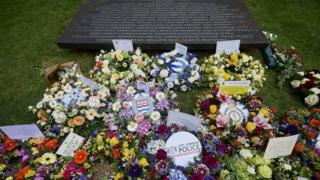 10th anniversary of London bombings
Ceremonies are taking place across the UK to mark ten years since the London bomb attacks which killed 52 people and injured many more.
The worst single terrorist attack on British soil happened on the 7th of July 2005.
It became known as the 7/7 attacks because of the date it happened.
Today, 10 years on The Queen and Prime Minister David Cameron laid wreaths at the memorial to the victims in Hyde Park.
In a note attached to his wreath, David Cameron wrote: "To the victims of terrorism in London 10 years ago today. We grieve your loss and will honour your memory forever."
London Mayor Boris Johnson's note on his wreath read: "Ten years may have passed, but London's memory is undimmed. We honour again today the victims of 7/7. You will live forever in the hearts of the people of this city."