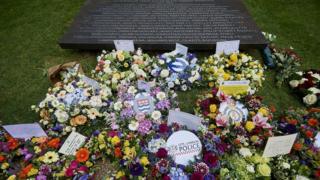 AFP/Getty Images
Many parts of the UK fell silent at 11.30am today to remember the victims of the London bomb attacks on the 7th July 2005.
52 people died and more than 770 people were injured.
It was the worst single terrorist attack on British soil.
It became known as 7/7 because of the date the bombings took place.
A minute's silence was held at special remembrance and memorial services across London and in other parts of the UK to remember those who lost their lives.
It was also to pay tribute to the emergency services who gave help to many of the injured on the day.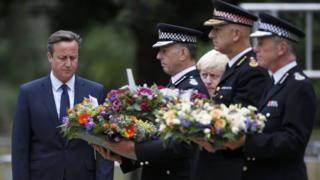 Reuters
On the morning on July 7th 2005, four men with rucksacks full of explosives attacked central London.
The target was London's transport system, at the end of the morning rush hour.
The underground station bombs went off at about 8.50am on trains near Liverpool Street and Edgware Road stations, and on another tube train travelling between King's Cross and Russell Square.
A fourth bomb went off on a bus in Tavistock Square, London, about an hour later.
This morning the Prime Minister David Cameron laid wreaths at the 7/7 memorial in Hyde Park in London. The Queen was also there.
In a note attached to his wreath, David Cameron wrote: "To the victims of terrorism in London 10 years ago today. We grieve your loss and will honour your memory forever."
There has also been a special remembrance service at St Paul's Cathedral in London.
During a minute's silence, the congregation stood, as petals fell to the floor from the cathedral's dome.