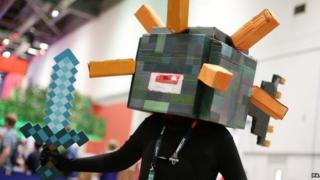 Minecraft fans flock to Minecon show
A huge Minecraft convention is taking place this weekend in London.
10,000 fans from around the world have gathered at Minecon to see the latest Minecraft tech, and share their top mining tips.
Popular YouTube stars such as Stampy, and Dan from the The Diamond Minecart are at the huge event.
There is also a costume competition, sessions to share Minecraft mod tips, as well as talks from the game's developers.
BBC technology reporter Chris Foxx sent Newsround this report from Minecon.