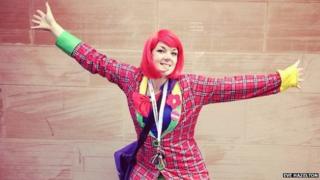 Eve Hazelton
Imagine having to choose between dressing as a clown or an elephant for the day. Well, those were some of the difficult decisions faced by Eve Hazelton, who has just finished her year-long task of wearing fancy dress every day.
Eve decided to give away her old clothes in exchange for a slightly more wacky wardrobe in order to raise money for charity.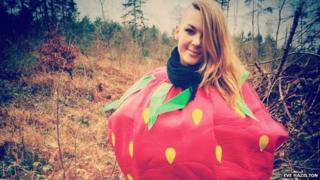 Eve Hazelton
In the last year, Eve has dressed as a giant strawberry, a sumo wrestler, and a bright pink gorilla!
She said that the hardest part of her challenge was doing "day-to-day things like going to the gym and supermarket".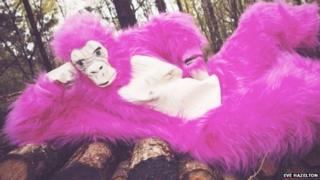 Eve Hazelton
Eve said she never thought of cheating, but mentioned that her lowest point was when she got the flu dressed as Big Bird from Sesame Street.
"I genuinely wanted to give up - I was only three months in at that point so I'm glad I stuck with it."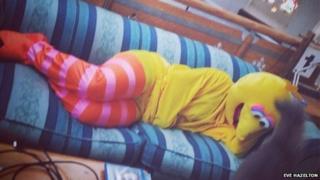 Eve Hazelton
She finished her year of fancy dress on Tuesday, and has raised more than £26,000 so far.
Eve said her favourite costumes were the musketeer and the pink gorilla.