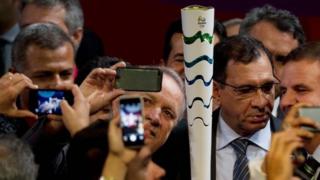 Brazil unveils Olympic torch
Brazilian President Dilma Rousseff has unveiled the torch to be used at the 2016 Olympics in Rio de Janeiro.
She said the Games would bring "honour and pride" to the country.
Some 12,000 people will be chosen to carry the Olympic torch through some 300 Brazilian cities next year.
Rio de Janeiro will be the first South American city to host the Olympics.
The BBC's Wyre Davies sent this report from Brazil.