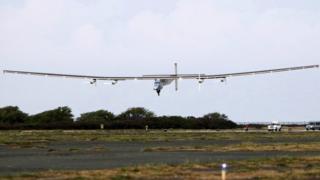 Solar Impulse plane lands in Hawaii
Solar Impulse, the aeroplane that is powered only by the sun, has landed in Hawaii after making a historic 8,000km flight across the Pacific Ocean from Japan.
Pilot Andre Borschberg brought the vehicle gently down onto the runway at Kalaeloa Airport just before 6am local time (5pm British time).
The distance covered and the time spent in the air - 118 hours - are records for a manned, solar-powered flight.
Watch Martin's report to find out more.