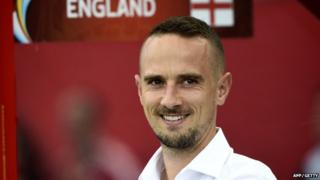 England want to "make history" again
England's women are gearing up for their match against Germany tonight to decide the third and fourth place positions at the Women's World Cup.
England missed out on a chance to play in the final when they lost to Japan earlier this week.
Manager Mark Samson said he wants the team to become the second best World Cup side ever.
"There's only us and the 1966 team that have won as many games at World Cups - it's an incredible achievement."
The Lionesses will have a tough match against Germany - a side they've lost to the last 20 times they've played each other.
England take on Germany at 9pm (UK time) on Saturday live on BBC Three