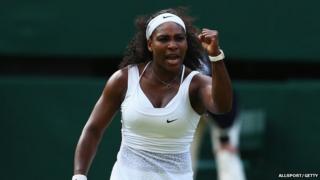 Heather Watson out of Wimbledon
British tennis star Heather Watson has lost to world number one Serena Williams in a thrilling match at Wimbledon.
Heather came back from being a set down to give Serena a run for her money.
The match lasted for three sets, with Serena coming back to win 6-2 4-6 7-5 in two hours and 15 minutes.
After the match Serena said: "I honestly didn't think I was going to win, how I pulled through, I really don't know."
The five-time Wimbledon champion will now go on to play against her sister Venus in the next round.