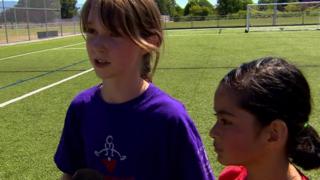 Canadian kids thoughts on home World Cup
The USA will take on reigning champions Japan in the Women's World Cup final today - a repeat of the decider from four years ago.
Pundits and ex-players say this World Cup has had a positive impact on women's football in the UK with more people watching the games on TV than ever before.
But how have kids from the host nation Canada reacted to the World Cup being played in their country?
Newsround asked a group of Canadian girls for their thoughts.