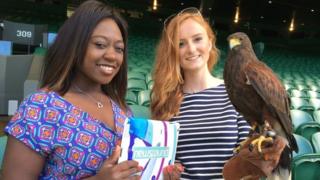 Meet Rufus - Wimbledon's winged wonder
There's just one week left of Wimbledon and we've already been stunned by the skills displayed by players such as Andy Murray, Serena Williams and Novak Djokovic.
The main contenders are starting to inch closer and closer to the biggest championship in tennis.
But there's one job that's being done extremely well that no-one really gets to see.
Ayshah's been to meet a special worker at Wimbledon.