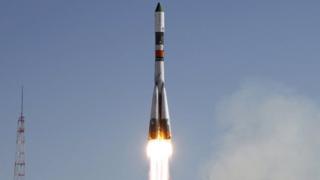 Cargo ship blasts off for space station
A Russian Soyuz space rocket, headed for the International Space Station, has launched successfully from Baikonur Cosmodrome in Kazakhstan.
The Progress capsule is on a mission to deliver a cargo ship loaded with food, water and equipment to the satellite.
The liftoff came five days after an unmanned US SpaceX Falcon 9 rocket exploded after launch from Cape Canaveral Air Force Station in Florida.