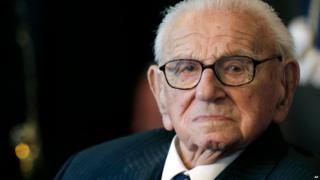 AP
Sir Nicholas Winton, who saved more than 650 children from certain death in Nazi concentration camps, has died aged 106.
Sir Nicholas arranged for trains to carry Jewish children out of the city of Prague, in the modern-day Czech Republic, in 1939.
His son-in-law Stephen Watson said he died peacefully in his sleep at Wexham Hospital in Slough, England.
Prime Minister David Cameron described him as a "great man".
How did Sir Nicholas save children from the Holocaust?
In 1938, Nicholas Winton was a young man working in London.
Jewish people were under threat in parts of Europe controlled by the German Nazi party, which was led by Adolf Hitler.
Anti-Semitism, which is negatively targeting Jewish people because of their faith, was made law.
Violence against Jewish buildings and businesses was increasing.
Instead of turning his back on what was happening, Sir Nicholas headed to Prague and hatched a plan that saved the lives of hundreds of Jewish children in the months before the outbreak of World War Two.
The 669 children travelled on eight trains across four countries to get to safety.
His heroics saved the kids from almost certain death in the Holocaust - the mass murder of six million Jews and millions of other people leading up to, and during, World War Two.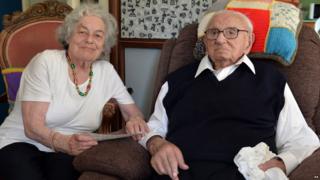 PA
Sir Nicholas organised foster families for Jewish children in Britain, placing adverts in newspapers.
His team persuaded British officials to allow all the children in to the country despite not having all the right documents.
Sir Nicholas kept quiet about what he did for 50 years.
His story was only revealed after his wife, Grete, found an old scrapbook that included pictures of the children and detailed the evacuations.