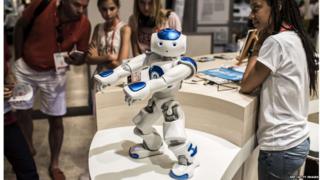 AFP/Getty images
If you love robots you'll love the hundreds of new models on display at Innorobo, Europe's biggest robotics exhibition in Lyon in France.
There are some that can do jobs at home for you.
They're called humanoid robots.
Others perform a specific single task like this one that is like a fork lift truck.
Many people in countries like Japan already use a lot of robots.
Some are driven by smart phones and wi-fi.
Many different companies are trying to develop robots that work like assistants to help make our lives easier.
They hope in future they can build robots to perform a bigger variety of everyday household tasks and can even help in hospitals, hotels and restaurants in the future.
There are over 150 exhibitors from countries all over the world at this years event in France.
Some companies are trying to make robots that can think for themselves and work out answers to complicated games and problems.
Others are making robots to do difficult jobs that may not always be safe for humans to do.
Some are teaching robots to dance, sing and perform on stage like actors- just for fun.