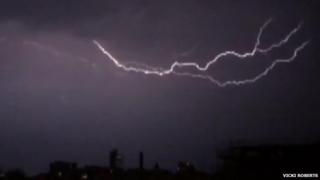 Amazing video Manchester lightning
Look at this stunning video of lightning in Manchester on Wednesday night.
Yesterday was the hottest July day on record, and combined with the heat and humidity in the atmosphere, the evening brought a dramatic contrast to the searing heat.
Parts of Northern England and Scotland experienced thunder and lightning,
BBC weatherman Simon King says there were 36,000 lightning flashes in 24 hours from 8am on Wednesday to 8am Thursday morning.