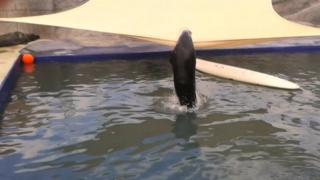 Sunbathing seal jumps on 'hammock'
A grey seal has been making the most of the hot weather by using the sun canopy over his pool as a hammock.
Pumpkin the grey seal has learned to jump out of the water and land on the canopy, where he rolls around sunbathing.
He learned the trick in May but staff at the Cornish Seal Sanctuary say he has been doing it every day recently because of the hot weather.
Pumpkin is also known for enjoying lounging on his surfboard at the sanctuary, where he has lived since November 2010.