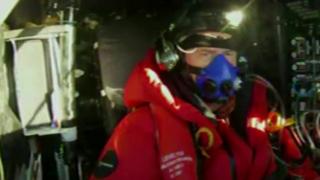 'I feel like I can fly forever'
A solar-powered plane that is attempting to fly non-stop across the Pacific Ocean is encountering its first weather front.
Solar Impulse 2 will have to take a route through a wall of clouds and rain to continue its epic journey from Nanjing, China, to Hawaii, USA.
This is the most difficult part of a record breaking attempt to fly around the world, powered only by the light of the Sun.
Pilot Andre Borschberg spoke to the BBC as he approached the front.
He said it was "an incredible moment" to be in the middle of the Pacific and that he felt like he could fly forever in the craft.