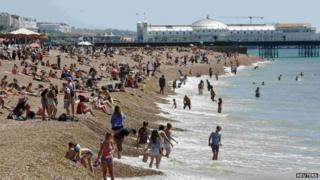 Reuters
England is basking in sunshine as temperatures reach the hottest they have been for nine years.
The Met Office said a temperature of 36.7 degrees Celsius had been recorded at Heathrow Airport at 2.50pm - the hottest UK temperature since 2006.
They say southerly winds are blowing the warm weather from Spain and Africa towards the UK.
But the weather is very different in Scotland, where thunderstorms, heavy rain and hail stones are predicted.
London is set to be hotter than Rome and Athens, according to BBC Weather, but not hotter than Paris and Madrid which are expected to reach 38 and 37 degrees Celsius respectively.
Hot and humid
As well as being hot, it will also be very humid, which means there will be a lot of water vapour in the air.
It might make it more uncomfortable to sleep, and could also cause a few thunderstorms.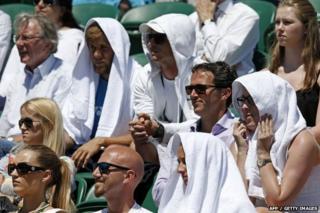 AFP / Getty Images
Health warnings have been issued to young children, the elderly and those with serious illnesses who are encouraged to stay in the shade, wear loose clothing and drink plenty of water.
The weather is expected to stay warm for the next few days until Sunday, when cooler Atlantic air will blow in.
Read our tips for keeping cool in a heatwave and taking care of your pets.
Keeping pets safe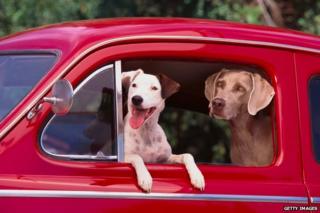 Getty Images
Hot weather can be dangerous for many animals, and the RSPCA has reminded people never to leave a dog alone in a car on a warm day, even with the windows left open.
The PDSA has advised that pets should always have access to shade, and hutches should not be left in direct sunlight.