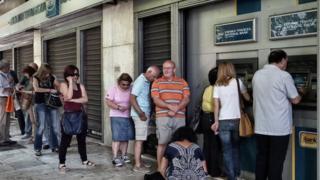 Why are Greece's banks closed?
Greece is a country gripped by huge money problems and now the banks there are closed for the week. But how have things got this bad?
Over the last 10 years, Greece borrowed lots of money from European banks and from other countries' governments.
It used the money to run the country, pay for the 2004 Olympic Games and also for things like big pay rises for people who are paid by the government.
But they've found it hard to pay it back because when you borrow money, you have to pay what's called 'interest': meaning you pay back more money than you borrowed to begin with.