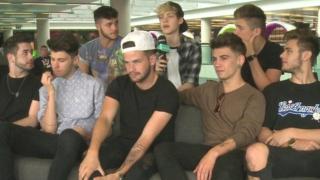 Why Louis didn't like Stereo Kicks member
Reece from Stereo Kicks has told Newsround that his X Factor mentor Louis Walsh didn't like him.
The eight man group has just released its first single and has been talking to Newsround about some of the secrets from behind the scenes at The X Factor.
During the chat Reece explained why Louis wasn't his biggest fan and others felt Louis didn't like them either.
And find out which band members didn't want the group to be put together in the first place.