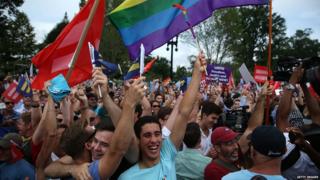 Getty Images
Same-sex marriage has been made legal across the United States.
In an historic decision, the US Supreme Court ruled that marriage is a legal right for all.
Before this ruling, same-sex couples could only marry in 37 out of 50 states, in addition to Washington DC.
It's not known how soon gay couples will be able to marry in the states where it was not allowed previously.
Loud cheers erupted outside the court after the ruling was announced, with lots of people camping out for hours to hear the news.
US Supreme Court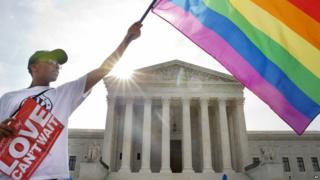 AP
The decision was made in the US Supreme Court in Washington DC, which is the highest and most powerful court in the United States.
The court is made up of 9 people. The most important is the Chief Justice of the United States and the other eight people are called associate justices.
They are nominated to do their jobs by the President of the United States and have the responsibility to vote on important decisions, such as same-sex marriage.
They all have one vote each. In the same-sex marriage ruling, they voted 5-4 in favour.