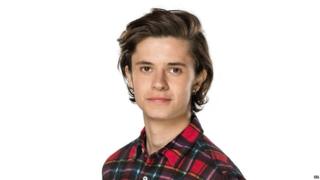 PA
You might know Cel Spellman from CBBC's Friday Download and the CBBC Official Chart - but you'll soon be able to hear him on Radio 1.
He's to become the host of a new Sunday show which will replace the current Official chart slot when it moves to Fridays next month.
The 19-year-old say his new job is "a privilege and an honour."
The programme will be split into two parts, the first devoted to new pop music and the second will play number one hits.
The Official Chart moves to Fridays on 10 July, to work alongside a new global release day for music.
Cel said: "The best station on national radio has been responsible for introducing me to so much incredible and varied music over the years, I just hope I can return the favour and help make those car journeys a little more memorable for the listeners with a mix of fun, top tunes and a little bit of cheeky chat!"
Radio 1 controller Ben Cooper said: "Radio 1 and CBBC are changing the way radio and TV work together to create great content for young new music fans on their radio and phone.''