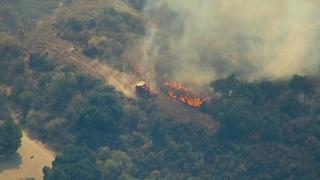 Wildfires hit Los Angeles
Hundreds of people have had to move from their homes in Los Angeles in the United States after huge wildfires hit the Santa Clarita area.
The fire had spread and is now burning across 350 acres in just a few hours.
Strong winds have fanned the flames further.
Over 400 firefighters are trying to put out the flames.
They say four years with little rain have made the conditions this year the worst on record.
It's not the only area affected.
Wildfires are also tearing through some hot, dry areas in northern California.
One wildfire south of Lake Tahoe has grown to more than 25 square miles.
There are also wildfires burning in Alaska, Oregon and Washington state.