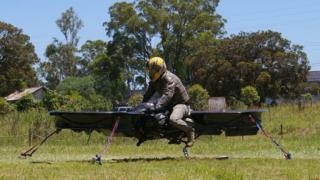 New hoverbike revealed
It's billed as having the simplicity of a motorbike and the freedom of a helicopter.
But this is a hoverbike - one of the world's first flying motorcycles, that travels in the air at low levels.
It's makers Malloy Aeronautics say it's based on drone technology and has been developed over many years.
It can be flown by a driver or remotely.
The first version was made in 2011 using a 1200cc BMW motorbike engine.
The latest prototype is powered by four bladed fans.
It's still not clear when the first ones will be ready to buy but there's a lot of interest, including from the US Military.
Watch the hoverbike in action.