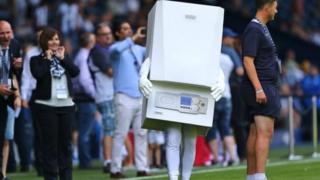 Rex Features
Mascots are there to entertaining the crowds and are generally cute and cuddly.
But West Bromwich Albion's new mascot has a bit more of an industrial feel...it's a boiler.
The new team member was introduced to the crowd on Saturday but sadly didn't bring the team the success they were hoping for.
Boiler man is far from the only strange mascot around though.
Check out these unusual characters.
Borobi - Aussie surfer extraordinaire!
He was the mascot for this year's Commonwealth games in Australia and caused quite a stir with his antics.
Borobi was such a trendsetter even Martin wanted to learn his moves when he bumped into him at the Gold Coast.
Kingsley - Too scary?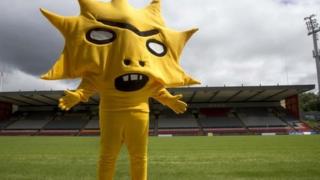 PA
Scottish side Partick Thistle's new mascot, Kingsley, has been compared to a badly drawn Lisa Simpson and a demonic sun.
He was designed by famous artist, David Shrigley but when he was introduced in 2015, loads of fans complained that he might frighten younger supporters.
Cooly - The coolest mascot ever?
Cooly the cow was a mascot at the 2014 European Athletics Championships in Zurich.
The mascot delighted the crowds by having a go at sports like pole vaulting and hurdling during the championships.
Sammy Saint - Gangnam style
Southampton FC's Sammy Saint made the headlines for all the right reasons!
The south coast's top dog showed off his dance moves before a premier league match with Norwich in 2012.
Imitating South Korean rapper Psy's trademark moves, he wowed the crowd and even got people following the dance with him.
And luckily for us, Sammy's Gangnam style moves were caught on camera!
Manchas - The cow with the mooooves
Speaking of dancing mascots, how about Manchas from Mexico.
Manchas, a mascot for a dairy company went viral after the cows crazy dance moves were caught on camera and posted on social media.
The mascot is well known in Mexico for its dancing, and often challenges other mascots to a dance off.
Clyde - Mascot with a special designer
Meet Clyde, the official mascot for the 2014 Commonwealth Games in Glasgow.
But Clyde wouldn't exist if it wasn't for 12-year-old Beth from Cumbernauld.
She won a competition to design a mascot for the games.
Clyde went on to represent Glasgow and the whole of Scotland when the games were held, and became a bit of a media star.