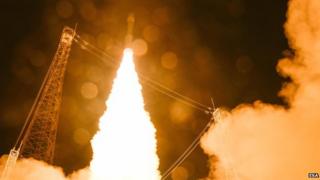 Esa
A satellite has gone into orbit to take pictures of the planet's surface to help monitor the performance of the world's food crops.
The satellite known as Sentinel-2A, is part of a multi-billion euro Earth observation programme.
Its mission is to take special photos that will help scientists see the health of plants.
Scientists hope this will help narrow down the places with poor harvests and help prevent famine.
The satellite will also take pictures of the planet's surface to map everything from the growth of megacities to the destructive aftermath of natural disasters such as earthquakes.
It's expected to begin operations in three to four months, after it has been thoroughly checked out.