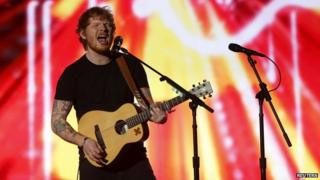 Reuters
1. He's a record breaker
Ed Sheeran's set a new chart record as his single 'Thinking Out Loud' has become the first ever to spend a full year inside the UK Top 40.
It entered at number 26 last June and finished at number 28 this week and has now achieved a combined sales and streams total of 1.65 million.
Thinking Out Loud is taken from his album X, that has also now logged a full year in the UK album chart top 10.
X was one of the biggest selling albums of 2014 globally.
2. He has the coolest friends!
Taylor Swift, Harry Styles, Niall Horan and Pharrell Williams are just a few of Ed's seriously famous friends.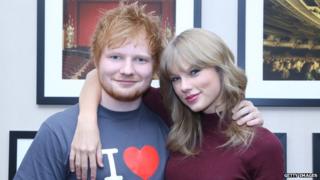 Getty Images
In 2012 Ed and Taylor released a single together called 'Everything Has Changed' and they've remained good friends since.
Ed also teamed up with One Direction for a song on their album FOUR. He also worked with the boys on songs like 'Little Things' and 'Moments'.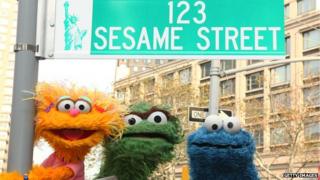 Getty Images
And it's not just pop stars who want to hang out with the singer-songwriter. Ed has some other friends who are just as cool... the stars of Sesame Street.
He made an online appearance on their show and even performed a song with Elmo.
3. He surprises his fans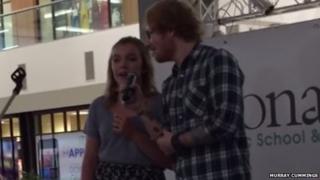 Murray Cummings
Ed recently surprised a young girl in Canada by performing an unexpected duet with her at a shopping mall.
He was in a music store when he overheard his hit 'Thinking Out Loud' being performed by 13-year-old Sydney for a charity fundraiser, so he joined her on stage and the teenager remained surprisingly calm with the Brit winner beside her.
He's also recently visited a poorly fan in hospital and even turned up as a surprise guest at a wedding, to perform one of his tracks for the first dance.
4. He loves animals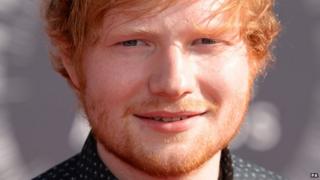 PA
Ed famously adopted a little kitten and named it Graham.
The singer took to social media to introduce his fans to his new furry friend.
Ed posted: "So basically this one month old kitten was gonna get put down so I adopted him and called him Graham. Just bought Graham a bed and snacks."
So cute!
5. He's brilliant at Lego
In his hit song 'Lego House' Ed sang the lyrics "I'm gonna pick up the pieces, and build a Lego house. If things go wrong we can knock it down."
So Newsround set him the challenge of building a house out of Lego whilst answering your questions.. check this out!