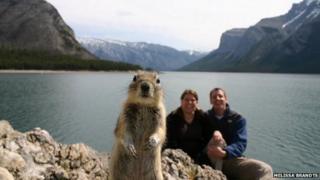 Melissa Brandts
This shot has been named as the world's happiest picture.
It was taken by Melissa and Jackson Brandts whilst they were posing at a lakeside in Canada.
The couple set the timer on their camera for the picture, but whilst they were waiting to be captured this cute squirrel popped into the shot and stole the limelight.
Over 2000 people were asked to vote on a number of pictures which made them happy, including landscapes, animals and babies, but this furry fiend came out top.
Experts say the reason we like it so much is because it has four of the things we usually like - cute things, calm landscapes, smiles and just a little bit of surprise.
Does it make you smile?