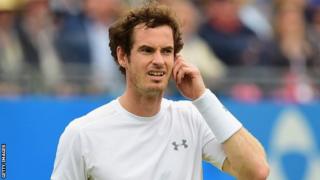 Getty Images
Andy Murray will have to play twice in one day for a chance to win a fourth Queen's Club title after rain stops play on Saturday.
The top seed was tied at 3-3 with Serbia's Viktor Troicki, when the match was stopped due to rain.
The winner will play South African Kevin Anderson.
Murray and Troicki will resume at 11.00am, and the final is scheduled to start at 2.25pm at the earliest.
It's not expected to rain again on Sunday.
Murray will hope to pick up where he left off against Troicki, having earned his sixth break point of a dramatic seventh game.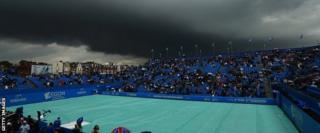 Getty Images