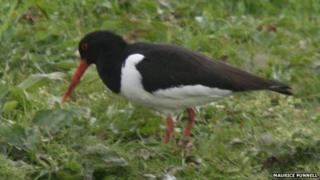 Maurice Funnell
A footpath unveiled by Sir David Attenborough has been forced to close just three days after opening, because a bird has made its nest there.
The oystercatcher liked the new "Attenborough's Walk" in Norfolk so much that it decided to move in.
All wild birds in the UK are protected by law, so the path has been closed to protect its nest and eggs.
Experts say that the chicks will probably hatch in a couple of weeks, and the footpath will be reopened then.