A Red Devil parachutist had a lucky escape when his parachute got tangled with a team-mate during an air show.
The Army freefall parachute display team was performing at the Whitehaven Air Show.
Mike French says he realised something was wrong when he saw his parachute wrapped around his team-mate.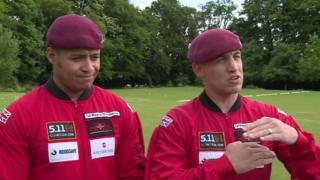 The men worked together to move towards a nearby harbour, where they landed safely in the water.
It's the first time in 25 years that a parachute has failed
No-one was hurt in the incident.