Microsoft revealed a holographic version of Minecraft for its HoloLens computer during its presentation at the E3 games show in Los Angeles, USA.
The new version allows players to build worlds on any surface, from their living room wall to a coffee table.
A release date for this version of the game has not been announced yet.
Microsoft bought Minecraft maker Mojang in October 2014 for $1.5bn (£1bn).
Xbox One to run old Xbox 360 games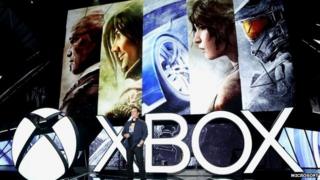 Microsoft
Old Xbox 360 games will be playable on the newer Xbox One console, Microsoft also announced at the E3 games show.
It has developed technology that lets the older games run on the new console.
Microsoft said Xbox One owners will not have to pay again to play the games that they already owned.
100 titles will be available to play when the feature launches at Christmas but "hundreds" more will be available soon after.