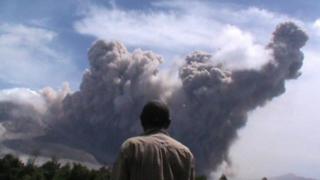 Volcano spews huge ash cloud
Mount Sinabung, on the Indonesian island of Sumatra, is continuing to throw gas and volcanic ash high into the air.
Thousands of people left their homes earlier in the week for safety but many have decided to stay within what authorities consider to be the volcano's danger zone.
Farmers in villages close to the volcano have had to harvest their crops . They were worried that the vegetables and crops left in the fields would be destroyed by any eruption.
Until 2010 the volcano had been dormant for more than 400 years.