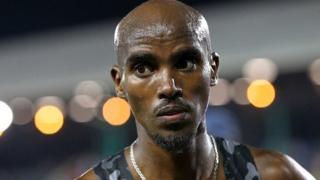 Mo Farah pulls out of race
Double Olympic champion, Mo Farah, has pulled out of the 1500 metre race at the Diamond League meeting in Birmingham.
His withdrawal from the race comes after a BBC investigation claimed Farah's coach, Alberto Salazar, had been involved in giving some of his athletes drugs to improve their performance.
There is no suggestion Mo has done anything wrong himself; and his coach strongly denies all claims made in the documentary.
Speaking on Saturday, Mo said he 'wants answers'.
He said: "I'm really angry at the situation. It's not right or fair. I haven't done anything but my name is getting dragged through the mud".
UK Athletics, who are in charge of the sport in the UK, said there were "no concerns" over Mo and his coach continuing to work together.