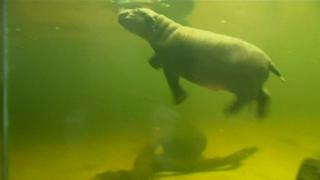 Pygmy hippo calf takes first swim
A pygmy hippopotamus calf has taken to the water for the first time with his mother at Melbourne Zoo in Australia.
His keeper, Justin Valentine, said Obi had been gaining strength and was doing well.
Obi was born on 25 May and is now three weeks old.
Adults grow to around 75cm tall and weigh around 250 kg, about a quarter of the size of a full-sized hippo.