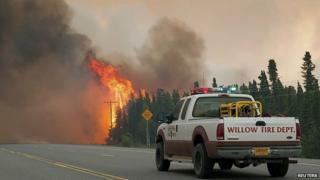 Rescuing dogs from Alaska wildfires
Powerful wildfires have destroyed thousands of trees across Alaska.
It's in the far north of America and borders the Canadian territory of Yukon.
300 firefighters are helping to tackle the fires.
Many people have had to move from their homes.
Many people use dogs such as huskies in this area for work and for sport.
Rescue teams have been making sure the teams are safe.