Teams of firefighters and special aircraft are working around the clock to try to put out huge wildfires that are raging across parts of Alaska.
The state is the biggest in the US.
The Forestry Division says the fires were started by ''human activity'' but it's unclear if they were accidental or deliberate. They say the specific cause is still under investigation.
Many people have had to move out of their homes.
Some houses have been ruined and huge areas of land have been destroyed.
Dog teams at risk
40 miles north of Anchorage is where the Iditarod, Alaska's famed sled-dog race, typically kicks off.
Listen to this man talking about the efforts to make sure the teams of dogs living and working there, stay safe.
How did the fires start?
There are many separate fires in different areas.
Water-scooping aircraft and helicopters with water buckets have joined hundreds of firefighters to try to stop the fires spreading further.
There has been a late spring heat wave after record breaking temperatures in May.
There have been lots of thunderstorms.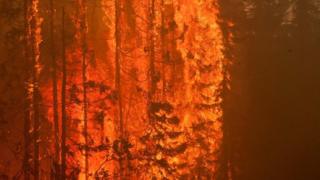 Reuters
Alaska Govenor Bill Walker says, '' It's pretty powerful. The fire itself is very powerful but the human response has been, I think, equally powerful to me.
To fly over and see what's been burnt and what's been left boy, we are so sorry about the losses of structures that have taken place.
I'm very pleased there has been no loss of life, I know we've lost some animals in the process and that's most unfortunate."