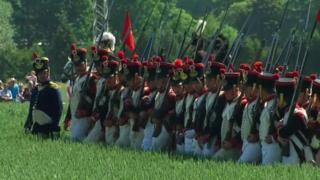 Battle of Waterloo memorial to be unveiled
Prince Charles is to unveil a memorial to the allied British, Dutch, Belgian and German soldiers who fought at the Battle of Waterloo.
Its 200th anniversary is on Thursday and marks the final defeat of the Emperor Napoleon, in a battle that cost some 25,000 British and allied lives.
The prince will perform the unveiling ceremony on the Belgian battlefield.
More than 5,000 enthusiasts in military costumes are at the battle site, ahead of a two-day re-enactment this week.
BBC's Robert Hall sent Newsround this report from Belgium.