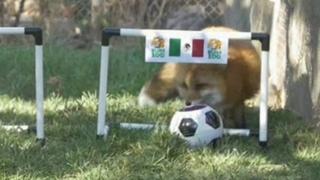 Can this fox be the next footie predicting star?
Meet Zincha the fox, trying to be the latest football predicting animal.
Zincha lives in Santiago Zoo in Chile, South America.
He predicted Chile's national footie team would win against Mexico in the second round of the Copa America football tournament.
But sadly Zincha needs to work on his predicting skills as the match actually ended in a 3-all draw.
Check out Zincha trying his best...