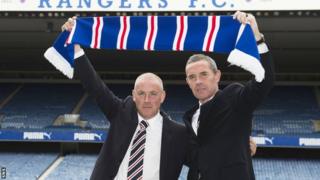 SNS
Englishman Mark Warburton has been appointed as Rangers' new manager after agreeing a three-year deal, the club have announced.
The former Brentford boss, who will be assisted by ex-Rangers captain David Weir, has been tasked with leading the Scottish Championship side to promotion at the first attempt by Gers chairman Dave King.
52-year-old Warburton becomes Rangers' 15th manager and the first Englishman in the post.
"Our job is to fill that stadium and the way to do that is to play in an attractive manner that excites the fans," said Warburton at a press conference announcing his new job.
Rangers, Scotland's most successful club, have been trying to climb back up the football ladder after club went bankrupt in 2012.
The side were relegated all the way down to the bottom division of Scottish football because of their financial problems.