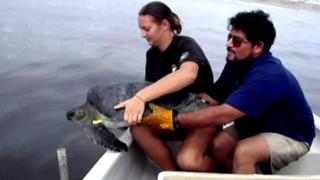 Turtles released back into the sea
Two turtles in Peru, South America have been released back into the sea after becoming ill from eating plastic.
It's thought they swallowed tiny bits of plastic floating around in the world's oceans.
The hawksbill turtle named Mariana and a green turtle called Ryana were given medicine by the environmental workers who rescued them.
They could now live until they're 120 years old.