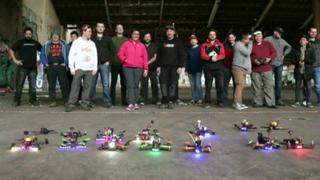 Drone race in abandoned warehouse
At an abandoned warehouse in Australian city of Melbourne, about 30 drone racers have gathered for a high-speed showdown.
They have spent hours custom building their machines and fitting them with onboard cameras - clocking speeds of 60 kilometre an hour.
"It's becoming worldwide, people want to race and go faster and try to compete against each other." says Darren French, one of the racers.
"Like any sport it evolves, so I'm looking forward to it becoming more professional."
Footage courtesy of ABC Lateline