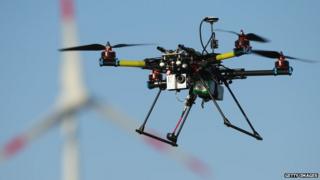 Getty Images
Drones have become more and more popular in the last 12 months and now fans around the world are starting to hold more events that test their engineering and flying skills.
Known as FPV racing - or first person view - the racers use special goggles, some held together with tape, giving them a drone's-eye view as they fly around the course.
There are lots of strict rules about flying drones and so it's not something you could do in your back garden.
But here's an amazing look at some of the organised drone races that have taken place round the world.
Australia
At an abandoned warehouse in the Australian city of Melbourne, about 30 drone racers have gathered for a high-speed showdown.
They have spent hours custom building their machines and fitting them with onboard cameras.
"It's becoming worldwide, people want to race and go faster and try to compete against each other." says Darren French, one of the racers.
"Like any sport it evolves, so I'm looking forward to it becoming more professional."
France
If you go down to the woods today, you're sure of a big surprise. That's because drone racing is taking off in a big way in France too.
Airgonay is a French-based club that specialises in fast-moving gadgets and action-packed activities.
The racers compete around a course, weaving in and out of the trees in a sport that could be straight from a Star Wars film.
It looks fast and furious and you need nerves of steel to get over the finish line.
USA
The first large-scale FPV drone race in the USA kicked off in Los Angeles last October.
It's called the Aerial Grand Prix and it attracts fans who love the thrill of zipping between trees, fences and other obstacles at up to 160 kilometres an hour - but without risking their own lives in the process.
But drone racing in America is difficult to organise because government rules bans drones leaving a pilot's line of sight when in the air.
This is why at the Aerial Grand Prix, each drone has a person following it around the course so they don't break the rules.