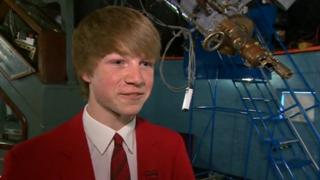 School boy discovers new planet
A schoolboy from England said he was "hugely excited" to have discovered a planet 1,000 light-years away.
17-year-old Tom Wagg found the planet while doing work experience at Keele University two years ago, but it has taken scientists since then to prove its existence.
Observations were carried out in Chile in South America, and at the universities of Geneva and Liege in Europe.
The planet does not have a name yet and a competition has been launched to find one.
Watch Hayley's report to find out more about Tom's incredible discovery.