A US police officer filmed wrestling a black girl to the ground and pointing his gun at teenagers in Texas has quit his job.
In a video - filmed on Friday in McKinney - Corporal (Cpl) Casebolt, who is white, is seen pinning 15-year-old Dajerria Becton to the ground with his knees.
Police said he was responding to reports of disturbances at a pool party.
Hundreds of people later protested at the scene, demanding that the corporal be fired from his job.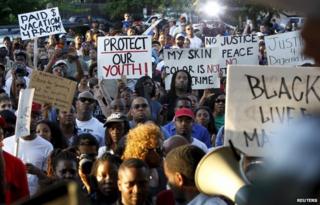 Reuters
Close to 800 people marched through McKinney, a city of almost 150,000 people, carrying signs with messages including "My skin colour is not a crime" and "Don't tread on our kids".
However, some local residents defended the policeman's actions.
'Out of control'
At a news conference on Tuesday, McKinney police chief Greg Conley described Cpl Casebolt's actions as "indefensible".
"Our policies, our training, our practice, do not support his actions. He came into the call out of control and as the video shows, was out of control during the incident.
"I had 12 officers on the scene and 11 of them performed according to their training. They did an excellent job."
Mr Conley added that the authorities were continuing their investigation of Friday's incident.
In a video that is more than seven minutes long, Cpl Casebolt is shown swearing at a number of black youths, pointing his gun at others, and pulling the girl by her arm, before pinning her to the ground with his knees.
Rising tensions
The issue of how black people are treated in the United States has been big news over the last year.
Protests claiming black people aren't treated as fairly as white people have sprung up across the US.
Protests have followed the deaths of several African Americans in police incidents since July 2014 - Michael Brown in Ferguson, Missouri, Eric Garner in New York, Freddie Gray in Baltimore and Tamir Rice in Cleveland, Ohio.