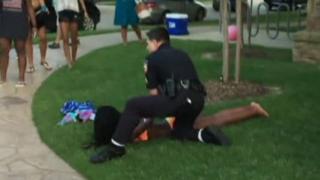 US police officer quits over protests
A US police officer filmed wrestling a black girl to the ground and pointing his gun at teenagers in Texas has quit his job.
In a video - filmed on Friday in McKinney - Corporal (Cpl) Casebolt, who is white, is seen pinning 15-year-old Dajerria Becton to the ground with his knees.
Police said he was responding to reports of disturbances at a pool party.
Hundreds of people later protested at the scene, demanding that the corporal be fired from his job.
BBC reporter Tom Bateman sent Newsround this report about what happened.